Fresh news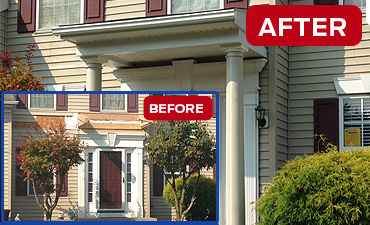 Porch Entrance (Before/After)
Another Kunsman Siding & Construction transformation! From a warped and rotted porch to a sophisticated and welcoming entrance way complete with new posts and gutter. A small renovation can make a big impact and add great curb appeal.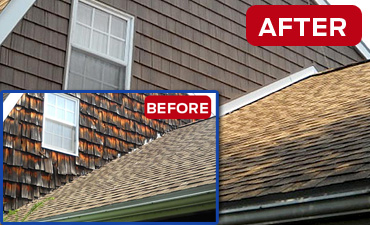 Cedar Shake Replacement (Before/After)
Cedar Shakes give many homes in the Lehigh Valley a touch of personality and charm. However, over time, they become damaged and rotted. Call Kunsman Siding & Construction to update this cherished local look and restore your home's natural charm and beauty.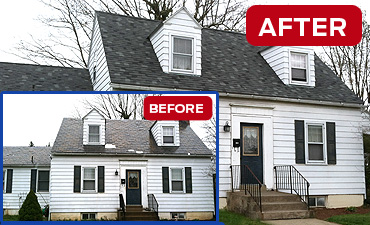 Roof Replacement (Before/After)
From an old deteriorated roof with missing shingles and warping, Kunsman brought this home back to life. A new roof brought this old Cape Cod back to its original glory with a sophisticated contemporary look. Call Kunsman Siding and Construction today!
Roofing Material Options
Want to know your options?
Want to do some homework before you start your next roofing project? Here are a few materials you may or may not have thought of. Ask your self, what best complements the style of my home? What is most durable? What is most energy efficient?
If you are remodeling, the existing roof of your house will determine your choice of roofing material. Should you be considering other options, you'll want to consider not only the cost but the color, texture, weight, and durability of your alternatives, as well as what traditionally has been used on houses like yours. We use CertainTeed shingles. They are an 30 year Architectural shingle. The CertainTeed company offers an extended warranty that can be purchased.
Asphalt Shingle. This is the most common and is made of a fiberglass medium that's been impregnated with asphalt and then given a surface of sand-like granules.

Wood. Usually made of cedar, redwood, or southern pine, shingles are sawn or split. They have a life expectancy in the 25-year range (like asphalt shingles).

Metal. Aluminum, steel, copper, copper-and-asphalt, and lead are all durable—and expensive—roofing surfaces.

Slate is among the most durable of all roofing materials. The best of it, the slate will outlast the fasteners that hold it in place.
BIG TRANSFORMATIONS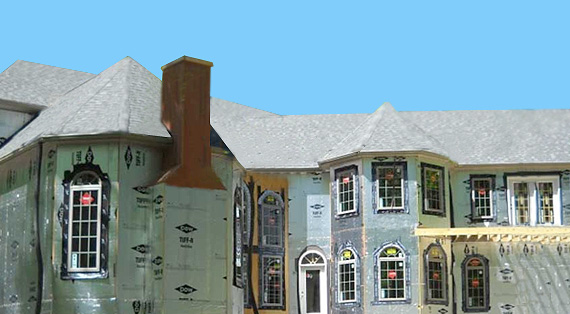 New Housing
Consider Kunsman Siding & Construction when building your next home. We work with your general contractor to do new roofing, windows, doors, gutters and any custom construction. We work efficiently and keep within the General contractor's schedule.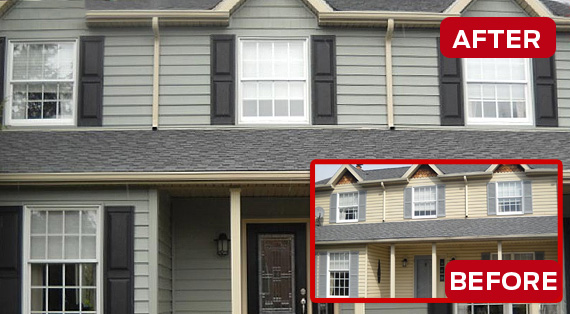 Go from country classic to contemporary
So many homes have great structural qualities but need a cosmetic face lift. Here at Kunsman Siding & Construction, we listen to your aspirations and bring them to life with the perfect color, texture and finish solution to make your house the best on the block!
How can I clean my roof? (hint: never use a pressure washer!)
Abrasive treatments like power washing is not the solution to a clean roof. If you apply too much pressure you are removing the shingle granules. You need the granules to protect the roof from the sun and weather elements, that is the primary purpose of the granules. If your roof is stained or moss covered, call Kunsman Siding & Construction for a low cost estimate on the best solution to either clean or replace your roof. They can best assess why the problem is occurring and the most effective solution. Call today! 610-759-5643.
NEW ROOF MAINTENANCE
Keep free of debris. Keep low lying tree limbs cut back and not resting on the roof.

Inspect your roof. Especially around the flashing and seamed areas.

Make sure and keep those gutters clean especially in the late summer and fall.
Inspect for insect damage especially soft rotten spots, shredded wood or sawdust and insect feces.

Look in unfinished areas of the attic for streaks or staining or where water may have trickled in around the chimney and vents.

Avoid walking on the roof. Asphalt shingles, slate or clay tiles can all crack or come loose.
Check around the flashing around vents, exhaust pipes and chimneys to make certain it isn't bent or punctured.

If you see a loose or fallen shingle, have it repaired immediately before water or additional damage occurs.

Get a routine roof inspection. It can help save on any future damage or lost energy efficiency.